Let's celebrate and remember the nurses that have served this Memorial Day
Wikipedia: Memorial Day is a United States federal holiday which occurs every year on the final Monday of May. Memorial Day is a day of remembering the men and women who died while serving in the United States Armed Forces. Formerly known as Decoration Day, it originated after the American Civil War to commemorate the Union and Confederate soldiers who died in the Civil War. By the 20th century Memorial Day had been extended to honor all Americans who have died in all wars. It typically marks the start of the summer vacation season, while Labor Day marks its end.
The 'Sacred Twenty': The first women to formally serve as members of U.S. Navy

They overcame insurmountable odds, endured gender-based prejudice, and helped a constant barrage of wounded soldiers under enemy fire. These courageous women, though patriots of different countries, were ultimately devoted to the true calling of nursing – saving human life.
Some stood firmly at their posts while bombs exploded around them, while other did it through administration and coordination. One of them was even executed by a German firing squad after being caught helping allied troops.
Read more: The Scared Twenty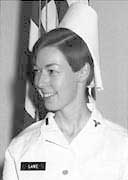 Lieutenant Lane

Lieutenant Lane died from shrapnel wounds when the 312th Evacuation Hospital at Chu Lai was hit by rockets on June 8, 1969. From Canton, OH, she was a month short of her 26th birthday. She was posthumously awarded the Vietnamese Gallantry Cross with Palm and the Bronze Star for Heroism. In 1970, the recovery room at Fitzsimmons Army Hospital in Denver, where Lt. Lane had been assigned before going to Vietnam, was dedicated in her honor. In 1973, Aultman Hospital in Canton, OH, where Lane had attended nursing school, erected a bronze statue of Lane. The names of 110 local servicemen killed in Vietnam are on the base of the statue.
To Lieutenant Lane's memorial on The Virtual Wall
Band of Angels

In World War II, 66 army nurses were captured during the Battle of the Philippines and were prisoners of war. They were eventually released in 1945 after many years of hardship. As well as being prisoners of war, 201 nurses were killed by the enemy in World War II.
Read More: We Band of Angels: The Untold Story of American Nurses Trapped on Bataan by the Japanese
Army Capt. Joshua M. McClimans

Capt. McClimans Died April 22, 2011 Serving During Operation Enduring Freedom 30, of Akron, Ohio; assigned to 848th Forward Surgical Team, U.S. Army Reserve, Twinsburg, Ohio; died April 22 at Forward Operating Base Salerno, Afghanistan, of wounds suffered when insurgents attacked his unit with indirect fire.
The above is only a small memorial to those nurses that have served and chosen to give back to our country. If you know a Military Nurse, thank them for their service. Remind them that the price that they pay in sacrifice, care and devotion is not forgotten.
If you are a military nurse, we want to say THANK YOU for your service!
Today we celebrate Nurses that Have Served.
Help us celebrate nurses that have served. Do you know a military nurse that deserves recognition? Tag them in the comments and let's celebrate them today.